Do you find it hard to organize or optimize your EDC? Then, it is time for you to consider a valet tray.
Valet trays are usually used you keep your things organized while minimizing the chances that you will forget something upon leaving your house.
There are plenty of valet trays available in the market, so we help you come up with top choices that will help you find the best piece for you.
1. Catch 3 Wireless Charging Tray
Do you find it practical to spend on valet trays? If yes, the Catch 3 Wireless Charging Tray is a must-have for you. If you are always on the go and aim to carry essential things in just one, stylish spot, this valet tray can help you a lot. It is crafted from quality pebble-grain leather. Also, it comes with wireless charging and enough space to accommodate your slim leather card case and keys.
2. DOIY Black Metal Valet Tray

The valet tray offers a straightforward yet sleek design. Meaning, it has no frills and no fuss. All you can notice is attention to detail and quality. Through its simple designs, it becomes easier for you to determine where you can place your keys, wallet m Aand any EDC must-haves.
3. Nixon Leather Valet Tray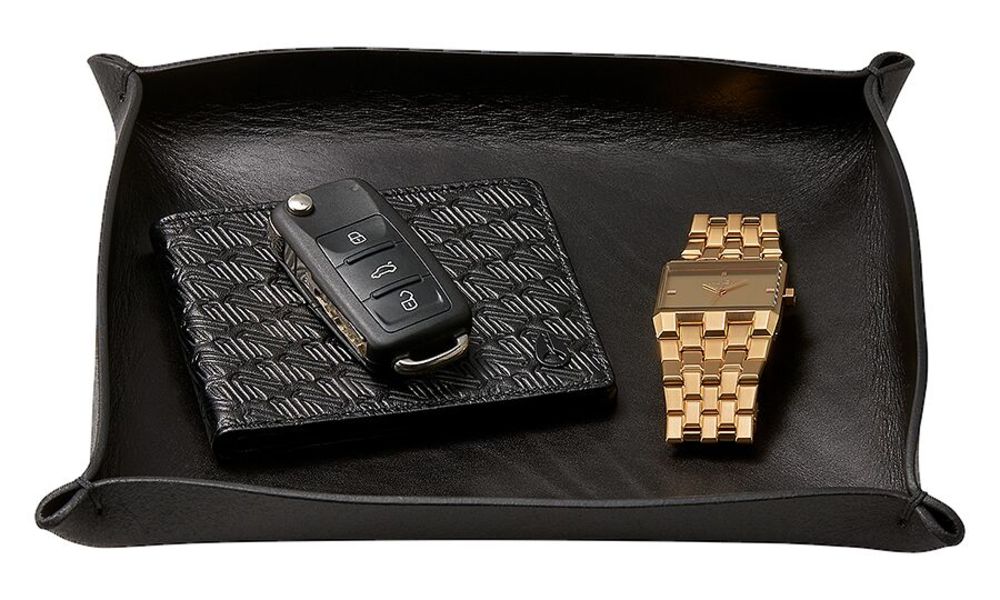 This can be your next valet tray since it can fit your everyday carry. The Nixon valet tray is now considered among the best options available in the market. It is crafted from premium grade to ensure that your leather goods and keys are safe all the time.
4. Barbour Leather Valet Tray

The Barbour Leather Valet Tray is true to its job in keeping all your smaller essentials safe and secure. It comes with an elegant, eye-catching design where you can put your things comfortably with style. It is easy for everyone to recognize this valet tray due to its quality craftsmanship.
5. Bradley Mountain Large Valet Tray

If you are on-the-go but wish to make your smaller essentials to be organized most of the time, this valet tray is perfect for you. It can accommodate your wallet, multi-tool, or even your wallet. It is crafted from vegetable-tanned leather that is waxed and oiled to create a unique finish.
6. Defy Snappy Valet Tray

The Defy Snappy Valet is constructed from Rio Latigo leather to offer the best quality and versatility. It comes with a unique finish that is hand-painted and paired with distressed brass snaps to provide additional durability.
7. Panhandler EDC Valet Tray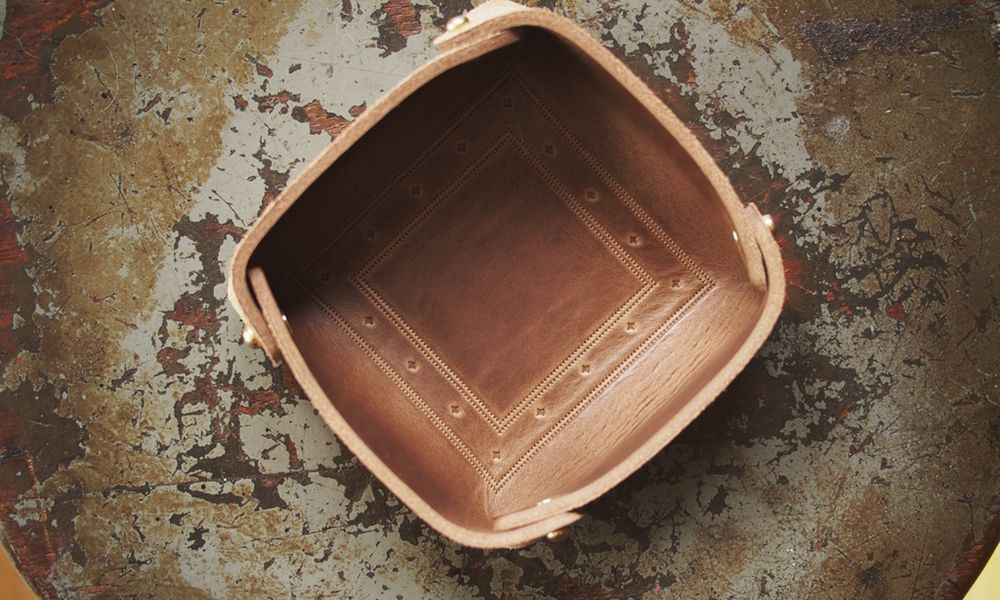 If you prefer a valet tray that both provide belt-weight leather and style in one rugged and unbreakable product, the Panhandler EDC Valet Tray must be on your side. You will be amazed at the valet tray' functionality and design points. It comes with a handy ability where you can fold flat every time you need to travel or store your essentials when you are at home.
8. Graf and Lantz Kawabon Valet Tray

You cannot underestimate what valet trays can do in organizing your stuff. Using the Graf and Lantz Kawabon, you will be able to organize smaller items in your daily life activities effortlessly. All you have to do is to place your essentials in this valet tray, and things will be well-made. Through its black denim and leather material, you will stay stylish.
9. Scout Leather Mini Valet Tray

Mini Valet Trays like the Scout Leather are perfect for organizing your smaller items such as keys, wristwatch, and other essentials that are easy to lose. It comes with a durable metal straps finish to ensure added durability. The valet tray is made from premium-grade leather in the United States. So, this can be one of the most crucial storage spots in your everyday carry essentials.
10. Maxx & Unicorn Rectangle Valet Tray

If a leather valet tray, concrete valet tray, or combination of the two is not your thing, then you can take advantage of a valet tray made of wood. The Maxx and Unicorn is an excellent example of a stylish and unique wooden valet tray. What makes it stand out is the carefully harvested cherrywood paired with maple. So, you can organize your watch and leather wallet in the most stylish way possible.
11. Craighill Nocturn Catch Valet Tray

For a clean and sharp design, you can opt to Craighill Nocturn Catch. The valet tray is both milled and finished using the best quality materials in Michigan. Use this stylish vale tray to store your essentials like AirPods, wallet, and leather lanyard.
12. Base Object 004 Valet Tray

The Base Object 004 has a distinctive look that can perfectly fit all your essentials without missing them a beat. It comes with a bright yellow color to offer a clean design while its minimum size helps you to save space at home.
13. DOIY Concrete Valet Tray

If you have no fondness to premium-quality leather works but wish to stow your day-to-day carry in a safe and straightforward spot, the concrete valet tray is a smart choice for you. The DOIY Concrete comes with a cost-effective price and convenient storage for your everyday haul. Also, it comes with handy slots.
14. Shinola Small Leather Valet Tray

Do you find it hard to have a permanent spot to store your wallet or watch at the end of the day? Then, the Shinola Small Leather will help you keep all your essentials safe and easy to find. The valet tray is made from a quality piece of leather that offers a stylish way to store your smaller items.
15. BillyKirk No. 471 Large Valet Tray

BillyKirk No. 471 is specially designed based on the modern lifestyle of everyone. From wallets to keys, it becomes easier for you to keep things organized. The valet tray is crafted from rich undyed leather that can withstand oil or sunlight. Also, it has plenty of space to help you add more of your essentials.
Valet trays come in different types such as leather, wooden, or concrete. Make sure to choose the type that will suit your needs.
So, never leave your things unorganized, always use valet trays!